The National Institute of Bank Management (NIBM), Pune, undertook a study to assess the impact of Emergency Credit Line Guarantee Scheme (ECLGS).
ECLGS, which was announced as part of the Atmanirbhar Bharat package aims to mitigate the adverse impact of the Covid-19 crisis on MSMEs and other Business Enterprises, with a 3 lakh Cr. Corpus. It is 100 percent loan guaranteed scheme under National Credit Guarantee Trustee Corporation (NCGTC).
An amount of Rs. 1.58 lakh crore has been sanctioned as on 31.8.2020 under ECLGS, out of which more than Rs. 1.11 lakh crore has also been disbursed
The results of the study were recently shared by the Office of Smt Nirmala Sitharaman, the Union Finance Minister on twitter. They were also published in major daily newspapers.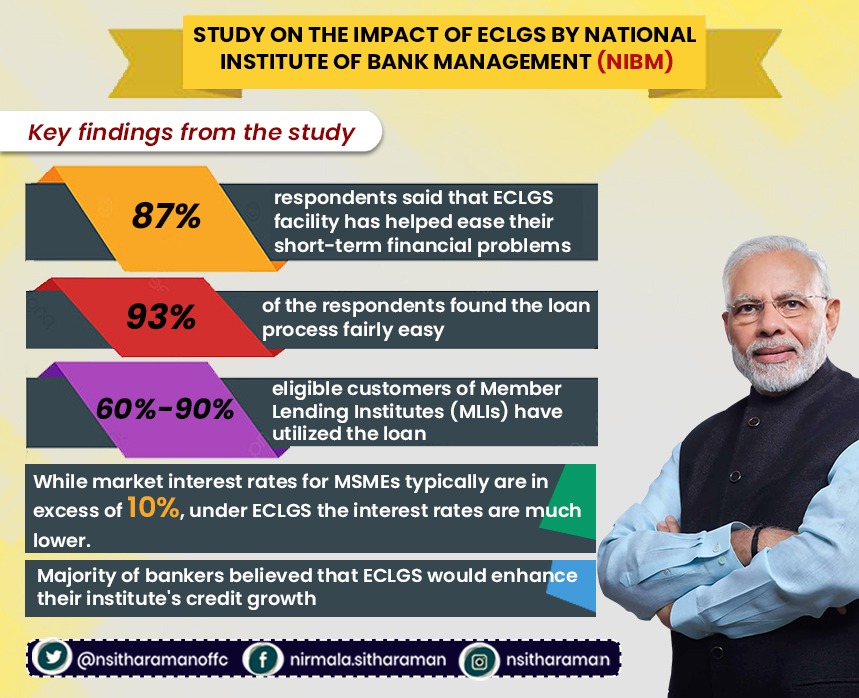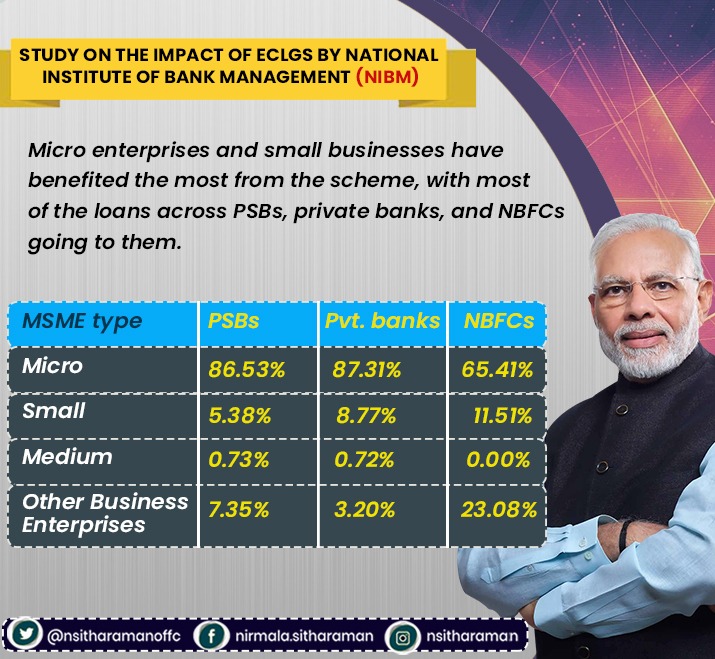 Originally tweeted by NSitharamanOffice (@nsitharamanoffc) on September 30, 2020.
Article in Financial Express
https://www.financialexpress.com/industry/sme/msme-fin-eclgs-micro-firms-get-maximum-loans-from-banks-under-credit-guarantee-scheme-medium-firms-bypassed/2095218/
Article in Economic Times
https://bfsi.economictimes.indiatimes.com/news/banking/micro-enterprises-were-largest-beneficiaries-of-eclgs-study/78428397
Link to the full Report
https://www.eclgs.com/documents/ECLGS%20-%20Impact_Assessment_Report_dated_August%2026,%202020.pdf